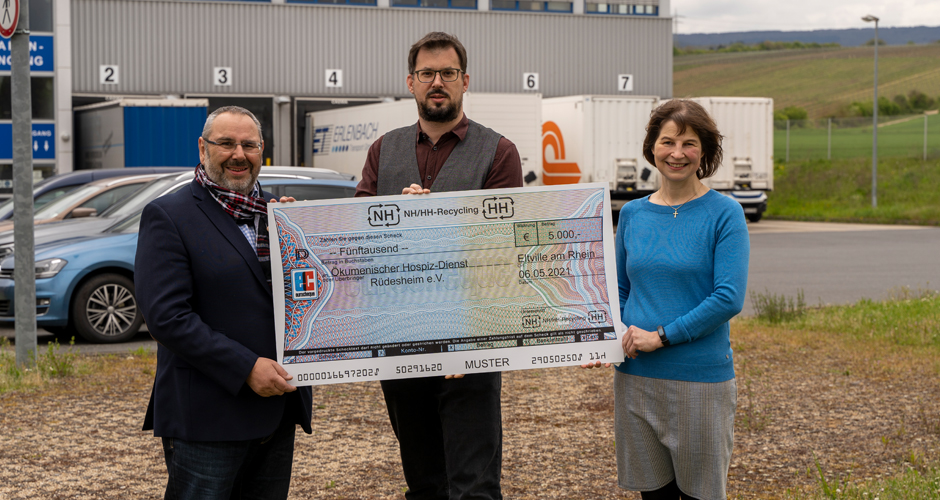 As a proud founding member of the non-profit NH/HH Recycling Association, supporting social institutions is especially important to us.
The NH/HH Recycling Association is a non-profit institution and has set itself the task of recycling fuses. This means that valuable raw materials, namely copper and silver, are returned to the economic cycle and the proceeds are used to promote research and training in the field of electrical engineering. Energy suppliers, industrial companies, small and medium-sized businesses and electricians throughout Germany participate in a nationwide collection system financed by the association. Most recently, the record value of 212 tons was achieved. EFEN GmbH contributed a value of 3.502 tons to this record high.
Like every year, the recycling association donates to a social institution. So we are pleased to be able to make a donation of 5.000 euros to the Rheingau Ecumenical Hospice Service this year. "The Ecumenical Hospice Service Rheingau provides people with assistance and support in their last stage of life so that they can leave this world with dignity. The donation is an expression of our gratitude and admiration for the profoundly humanitarian work of this institution," explains Harald Kownatzky – Sales Manager Europe at EFEN and Deputy Chairman of the Board of the association.
You will find plenty of additional information about the NH/HH Recycling Association at: https://www.nh-hh-recycling.de/